Luxottica And Oakley Launch "Oakley Radar Pace", Glasses With An Integrated Personal Trainer
20/10/2016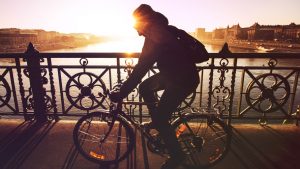 "Radar Pace is the proof that everything can be improved – It represents the most advanced wearable technology featuring a voice-activated function. It redefines the design of Smart Glasses"

Scott Smith, Vice President of Strategic Partnership, Luxottica Group
RESEARCH LEADS TO INNOVATION
Intel and Luxottica have united to offer a development to the the augmented reality project, already started by Google with the introduction of Google Glass. In this case with an eye to the interest of sports enthusiasts.
The Oakley brand helps make them an object of desire for experts in the field and not only.
But there is more than that.
The research carried out by Oakley led to the creation of "Prizm Road" lenses, a new technology which is able to significantly increase contrasts between colour and brightness, guaranteeing a more well-defined saturation of whites and yellow, red and green tones. The result is a help for athletes who may encounter dangers on the road.
Oakley Radar Pace is a pair of smart glasses which features a voice-activated function system helpful for adjusting sporting training plans.
It is the result of years of research and development carried out by Oakley, a brand of the Luxottica Group, and Intel.
A TRAINER AT YOUR SERVICE, WHEREVER YOU ARE
Radar Pace features all the functions typically used by fitness trackers. It guarantees measurement of heartbeat, speed, distance of the route, with additional vocal commands to create personalised training schedules, perfomance tracking and a a guide during training sessions. Radar Pace tracks data in real time, providing personalised suggestions and a dynamic and organised training program.
These smart glasses include various integrated sensors (speedometer, gyroscope, barometer, and information on proximity and humidity) in order to record the most important data. External sensors like the heart rate monitor can be connected by using LE or ANT+ Bluetooth connection.
In addition, three microphones for voice commands and a 150 mAh battery with up to 6 hour operating time are included. The touchpad on the side of the glasses, allows the user to manage various functions with tap and swipe (for example, volume, music activation and phone calls with smartphone).
THE ONLY GLASSES THAT TALK TO YOU
Featuring a user interface with voice commands using Intel® Real Speech, Radar Pace helps athletes stay focused and maintain an optimal training level. Just by saying "Okay Radar" the user can get real time information or previously recorded data.
The headphones with an integrated Bluetooth system allow the smart glasses to receive and make phone calls, send and receive text messages and listen to music.
These glasses are composed of two main elements: Oakley glasses with integrated headphones and microphone, and an app for IOS and Android that can be downloaded from Apple Store or Google Play.
They are IPX5 water-resistant and available on Oakley.com and in the North-American, Australian and European Oakley stores from 3 October 2016.