5 ITALIAN ROUTES FOR ALL MOUNTAIN BIKE LOVERS
01/04/2022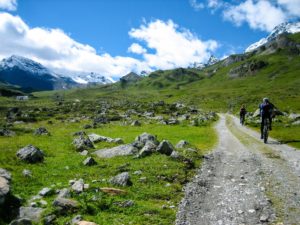 Dirt track or road, who cares: for mountain bikers the time has arrived once more to plunge down sheer descents and to sweat all the way up the most inconceivable climbs! Often, a huge amount of effort is paid pack in full by the stupendous landscapes you see during the ride.
So here is a list of five spectacular Italian routes for all mountain bike lovers.
The Via del Sale.This very long trail, which winds through Piedmont, Liguria and France, has been known since the Middle Ages when it was used by merchants as a trade route. Its combined paths, with a total length 121 km, wind between mountains, fortifications and small mountain churches before arriving at Ventimiglia on the Ligurian Riviera.
The Giro del Monte Bianco.At 4810 m in altitude, Monte Bianco (Mont Blanc) is the highest peak in Europe. The complete Giro del Monte Bianco (recommended for the very fittest!) lasts 5 days and stretches 230 km, with an altitude difference of 8500 m. The route features a marked prevalence of dirt tracks over roads. Needless to say, the landscapes you'll see if you tackle this challenge are breathtaking.
The Tracciolino in Val Codera.To the north of Lake Como, at the gateway to Valchiavenna, is a 10 km trail that's truly a must for all lovers of mountain biking. This route begins with a climb, crosses the rails of a disused railway and then plunges into a very challenging descent. All together with a series of evocative landscapes, lakes and tunnels carved through the rock.
The Eroica Permanente.This list could not have been complete without Tuscany, with its landscapes dotted with vineyards, dirt tracks, farmhouses and poplars. The Eroica Permanente is a route of 209 km and a total altitude difference of 3891 m that twists its way along quiet roads and dirt tracks through the Chianti, Crete Senesi and Val d'Orcia. Built to combat the excessive erosion of Tuscan landscapes due to human activities, over time it has come to be used as a fully-fledged cycle route.
The UNESCO sites of Basilicata and Puglia. For those who love art and culture as well as mountain biking, this ride along the back roads of Puglia and Basilicata is highly recommended. The route, about 300 kilometres long, boasts numerous UNESCO World Heritage Sites. Dividing the route into several stages you'll be able to visit Trani, Castel del Monte, the Sassi at Matera and finally the Valle d'Itria, with its famous Trulli of Alberobello, and also iconic villages such as Martina Franca and Ostuni.
Source:
www.bikeitalia.it
perlealpine.it
www.mtb-mag.com
www.bikehabits.com
www.ilsole24ore.com
www.eroica.cc
www.turbolince.com