DISCOVERING SUP
25/08/2021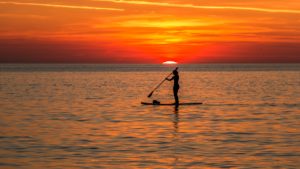 In our last article we talked about sports tourism in Italy and the best destinations to do it. Today we're taking you on the discovery of a sport that, while still little known, is increasingly gaining popularity on beaches all over the world: SUP.
What is SUP?
SUP stands for Stand Up Paddle, or Stand Up Paddling. This sport was born as a variant of surfing which, in contrast with the latter, involves using a larger board that can support the weight of the athlete who uses a special paddle to move across the water.
SUP can be practised in two different ways: paddling along the coast to enjoy the landscape, have fun and relax (SUP Cruising), or in a similar way to surfing, using the paddle to steer the board, keep your balance and ride the waves (SUP Wave).
Stand Up Paddle: how to start and techniques
Unlike surfing, starting out with SUP is very intuitive and within reach of everyone. The sport doesn't take long to learn, and it's even possible to teach yourself. Using an instructor and getting expert advice, however, enables you to pick up skills and techniques while saving time and the odd plunge into the water.
The essence of SUP is a combination of balance and rowing. The first step for a beginner is to position yourself over the board's centre of gravity, placing your feet alongside the carrying handle as far apart as your shoulders. It's important to maintain as natural a position as possible, with your back straight and you knees slightly bent to cushion all movement. The movement of your legs is particularly important in accompanying and assisting the paddling action, the technique of which is extremely intuitive and easily learned. The most important thing is a paddle high enough to be comfortably held with your arm extended upwards.
This sport comes with a range of physical benefits: it strengthens the abdominal and back muscles, tones the arms, and improves posture and balance.
The relative simplicity of SUP to learn makes it an activity that everyone can do: beginners, children, or expert surfers who want to test their abilities with one of its variants.
Where to do SUP in Italy
Some of the most beautiful and evocative places to do this sport in Italy are Lake Garda and the coasts of the Mediterranean.
Source:
ohga.it
freedome.it