HERE ARE FIVE ENCHANTING PLACES TO DO CROSS-COUNTRY SKIING
27/01/2023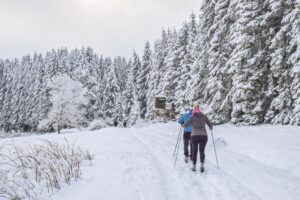 Reconnecting with nature, admiring snow-covered landscapes in silence, spending quality time with others or alone, enjoying a harmonious and complete form of exercise: the benefits of cross-country skiing are many.
Regarded as one of the winter outdoor specialities par excellence, cross-country skiing is a sport that's suitable for all, accessible from both the financial and practical viewpoint: a complete workout, an aerobic discipline that engages the whole body and combines physical and mental benefits in a rewarding experience for people who love nature.
Here are five enchanting places to do it:
Valtellina (Lombardy). This famous winter resort in Lombardy offers lots of trails to choose from. Particularly worth a mention is Livigno, a ski resort with over 30 kilometres of slopes – many of which are free, equipped for cross-country skiing and suitable for all levels and abilities.
Madonna di Campiglio (Trentino). Surrounded by the Adamello Brenta Natural Park, this ski resort boasts 85 kilometres of slopes and a number of trails that wind through the beautiful surrounding forests, offering views of the majestic landscapes of the Dolomites.
Val Formazza (Piedmont). There are two cross-country ski trails in this Piedmontese location: Riale, which takes skiers up to a high altitude (1740 m), immersed in a fairytale landscape distinguished by the typical wooden houses of the village of Rial and the majestic Toce Waterfall; and San Michele, at lower altitude, which winds for 12 kilometres along the river Toce.
Gallio (Veneto). Situated on the Asiago Plateau we find the Gallio Cross-country Ski Centre, one of the largest centres for cross-country skiing in Italy and Europe with 150 kilometres of trails. A real paradise for lovers of this sport but also for families who decide to spend some time on the snow, with a beautiful, well-equipped playground and the chance to be completely immersed in nature with long treks on snowshoes.
Gressoney (Aosta Valley). Four trails are available to cross-country skiers in this ski locality. These include the 25-kilometre Gressoney-Saint-Jean, , the queen of trails within the Lys Valley and home to the Gressoney Cross-country Ski School, with a breathtaking view of Monte Rosa.
Sources
www.trekking.it
www.viaggi.corriere.it
www.sportoutdoor24.it