SNOW BIKING: 3 unmissable destinations for cycling freely on snow
19/11/2021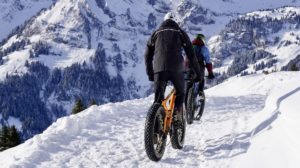 Pedalling in winter on snow-covered mountain paths.
It will seem a bit unusual but snow biking is to all intents and purposes a sport: the winter version of mountain biking in which you go along snow-covered paths on a bicycle fitted with special wider tyres (four or five inches to reduce the risk of slipping and sliding) and disc brakes, particularly well suited to winter conditions.
It might seem easy, but there may be hidden dangers when pedalling on snow: slippery ground, bad weather and freezing temperatures – so it is important to have the right equipment. As well as a properly equipped bike, it is vital to wear a helmet and clothing suitable for the coldest temperatures. It is therefore good to wear several light and breathable layers giving you freedom of movement while protecting you from the cold.
Once properly equipped, here are 3 unmissable destinations for cycling freely on snow!
Alta Valtellina
In Lombardy, discover woods, paths and forest trails near Bormio, in the middle of unspoiled nature. An ideal place to enjoy the natural wonders of the Stelvio National Park.
Val di Sole
In the Trentino Dolomites, from Madonna di Campiglio to the Val di Fiemme. Admire breathtaking views as you go along paths specially carved out for snow biking fans.
Val di Fiemme
Still in Trentino, between Cavalese and Predazzo, you will find routes that skirt woods, on the level and downhill. Some of these are particularly suitable for beginners.
Source: blog.musement.com; ecobnb.it