WINTER SPORTS YOU DON'T EXPECT: SNOW VOLLEYBALL
15/12/2021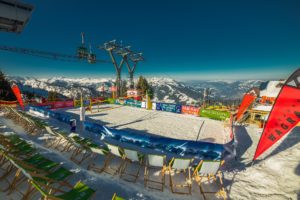 Have you ever heard of snow volleyball?
It's the winter alternative to beach volleyball: snow instead of sand, shoes with spikes instead of bare feet, an initial thermal protective layer instead of swimsuit and the spectacular setting of the mountains instead of the soft sound of the waves.
It is a relatively young sport, which was invented in Russia but is now played very widely including in Italy; its rules are inspired by those of beach volleyball, but over the years it has become more autonomous and is developing its own identity.
It is a team game played on a court that is obviously covered in snow using a net whose height varies depending on the competition. Teams can be male, female or mixed and it can be played two against two or three against three.
Snow volleyball is considered an extreme winter sport because of the weather conditions in which competitions are held.
It can be played in temperatures well below zero, even at -15/20 degrees, and at altitudes where breathing becomes harder because of the thin air. An advantage? The consistency of snow (if not icy and therefore too slippery) unlike that of sand makes it possible to jump higher.
To play snow volleyball safely and practically while still having fun, you must have the right equipment. Therefore, go for breathable and thermo-regulating clothing that will protect you from the cold while giving you great freedom of movement and be careful to choose the right shoes. The sole should have spikes to give you the right grip on the snow and the ground.
On clearer days don't forget to put on sunscreen and wear sunglasses.
Today, snow volleyball in Italy is recognised by the Fédération Internationale de Volleyball, and an application has been submitted for it to become a demonstration sport at the Milano-Cortina Winter Olympics in 2026.
Source: https://bit.ly/3yzl2vc; https://bit.ly/3J296XY