An interview with Marta Zenoni
23/02/2017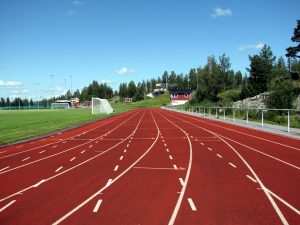 The young mid-distance runner Marta Zenoni gives us an insight on her sport, her studies and her future goals as an Italian athlete who has many victories already under her belt.
Sport has been a part of your life since you were small: you were already competing in athletics at the age of nine and you later became a middle distance specialist, but even before all this you loved swimming. Of all sports, what led you to prefer middle distance running?
I first came across middle distance completely by chance! My sister used to do cross-country running, so I once had a go too. It gave me such a wonderful feeling of freedom that I realised straight away that it had to be a part of me.
You've competed and set several national records in both shorter middle distance (800, 1,000 and 1,500 meters) and pure middle distance (3,000 meters): what's the difference from an athlete's point of view and which distance are you most passionate about?
I definitely have a preference for the shorter middle distances (800 and 1,500) because they're more dynamic. The margin of error is also much lower than for the others and, above all, I just enjoy myself more!
It's not quite your 18th birthday, you've already won a number of medals in national and international competitions and you're still at grammar school: it must be a difficult task combining school life with a sports career, how do you deal with that?
I must admit there are times when I never seem to get a free moment, but that's all part of the game, of the challenge. I'm doing well at school and that's important for me – the only way to combine school and sport is to be well organised.
Do athletics and your own specialism in particular have any special demands from the psycho-physical point of view?
Concentration is fundamental. Setting goals is also very important. I'm not lacking in grit and determination, but sometimes I get injured and that's tough to deal with! You go from one moment when everything's great and you feel you're really flying, and the next when suddenly you can't train or race. It isn't easy mentally or physically… combined with the fact that I can't stand being still!
In any discipline training activity always has to be combined with a suitable diet. You're still very young, how do you handle this relationship between sport and nutrition? Tell us a secret: what's the food you really can't give up?
I don't have a particularly restrictive diet, I eat a bit of everything but I always have to be careful not to overdo it. The only thing I can't give up is pizza!
When you're preparing for an important competition what routine do you follow?
I'm not superstitious, so I don't have any pre-race rituals. The only thing I need is concentration. Music is the thing I really can't do without before every competition: it's all I need because it gives me the energy and strength to approach the race in the right spirit.
Thinking of today's athletes, is there anyone you admire in particular? Why?
There are lots of athletes I admire and respect. Every single one of them has amazing and differing qualities, and I try to draw inspiration from them all to keep continually improving.
What is your aim for the future? Do you still picture yourself as an athlete in 10 years' time or do you have any other secret wishes?
Ten years is a long time. I'm focusing on the more immediate future! But I can't deny that my real dream in 10 years' time is to still be competing as an athlete – who knows, maybe at the Olympics! J