Curiosities and record about natural caves: from the Star Cave to the cave that can contain a Boeing 747
17/06/2016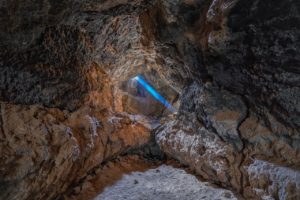 A magic place where people can soak up a fabulous atmosphere with fairies and nymphs, but also a hellhole where pretty bad creatures live and plan their evil plots.  The cave is very popular in the collective imagination and constantly arouses curiosity and a sense of adventure. It can be a right place to deal with exploration and test your abilities.
The etymology of 'cave' is the Latin 'crypta', which derives from the Ancient Greek  κρύπτω, "to hide, to cover, to conceal". Today a cavern is a cave, originally developed horizontally in the underground or beside a mountain. It is shaped by endogenous processes ( caused by forces within the Earth, like volcanism or earthquakes) or by exogenous processes (that come from forces on or above the Earth's surface, like winds, wave currents).
The world of caves is extremely peculiar, varied and not easy to explore, but surely rich in curiosities, record and interesting stories to tell, as explained below.
Hang Son Doong: the biggest caves in the entire world.
Explored in 2009 by an Anglo-Vietnamese group of scientists from the British Cave Research Association, the underground system of Hang Son Doong , known as the "cave of the mountain river", is one of the biggest natural caves in the world, one of which is so large that can contain a Boeing 747.
The speleologist complex of Hang Son Doong is located in Phong Nha-Ke Bang National Park, in central Vietnam and contains more than 150 caves which are up to 150 metros wide and up to 650 metros high. They are connected with each other by passages of 140 km long. The longest passage is more than 4 km long. Therefore it is a real underground complex: a Guinness World Record.
Waitomo Caves: the star caves.
One of the most suggestive natural caves is the Waitomo Cave System which is located in the King Country, a region of the North Island of New Zealand.  The Waitomo Caves have become a major tourist attraction for their guided tours from November to March, and nowadays  they have a worldwide fame for a particular phenomenon called bioluminescence.
The Waitomo Caves are filled with breathtaking light shows and brilliant colours in the dark. This happens for the population of glowworms(literally Arachnocampa luminosa), which are small insects similar to the fireflies. They glow through bioluminescence in the dark and create real starry skies on the rock walls.  Jordan and Jen, two Canadian travelers, captured this particular moment on a video time-lapse in 4k, available online on the Youtube channel Stoke for Saturday.
Bronson Caves: the rainbow caves.
Sometimes, when talking about caves, we do not refer to the caves of natural origin. For example the Bronson Caves are man-made and were probably created around 1900. They have become known as a filming location for countless cult movies like The Rock: the scorpion King or Star Trek VI and TV series like Batman (the famous bat-cave) or Bonanza.
They are located in the Griffith Park  in Los Angeles and recently they have acquired new renown thanks to the ethereal and original work of Brice Bischoff. The artist produced a long-exposure photograph while he was dancing and moving with large sheets of coloured paper in front of a camera at the entrance of the Caves. His work is exhibited in the Kopeikin Gallery in Culver City (California) and represents a photographs document series of electric rainbows, multicoloured images,  amazing  and even a bit disquieting atmospheres. A piece of his work is available online on the website bricebischoff.com.
Maurizio Montalbini, a total-Italian record: 366 days in space-time complete isolation.
In 1992 the sociologist and speleologist Maurizio Montalbini made history with his experimental feat.
Fond of chronobiological research, he stayed in complete isolation in a cave in Monte Nerone for 366 days. The cave is located in the Apennine Mountains in Umbria and Marche. He definitely set the word record for the longest stay underground.
The results of his long isolation without sense of space and time became useful for the space centre ESA, in view of exploring Mars and returning to the Moon. Montalbini also carried on some experiments on biological rhythms of human beings and helped research scientists from all over the world to improve their studies based on techniques of therapeutical administration for serious diseases.
The best clothing for the caves: the most comfortable mix.
The speleologists count about 8 different types of natural caves. Those which represents the biggest attraction for underground tourism and search expeditions belong to the karst caves. The karst caves, famous for their huge sizes measurable in kilometers, are shaped by the action of water against the sedimentary rocks, which are rich in calcium (like limestones), magnesium carbonate, calcium sulphate dehydrate (gypsum) calcium carbonate (marble) or sodium chloride (salts). Anyone who decides to visit one of these amazing places, like the Grotte di Postumia in Slovenia or the Grotte di Castellana in Puglia, should wear a clothing suitable for excursion.
The karst caves have a temperature at an average of about 10°C and a rather high relative humidity level (around 98%). Under these conditions, you need to be protected because of the heat exchange and the consequent body cooling. In order to help you choice the appropriate clothing for a cave, here is some advice.
Hiking boots, possibly with a slip-resistant sole.
Neoprene wetsuit socks in place of normal socks if there are areas covered with water (or rubber boots in substitution for hiking boots).
Work gloves, rubber gloves are better. Not too heavy and suitable for a resistant grip.
Dungarees and jackets of synthetic fibre.
Thermal, breathable lightweight shirts to keep you warm and comfortable.