DRYARN DEBUTS AT TENNIS US OPEN WITH YOXOI
25/09/2019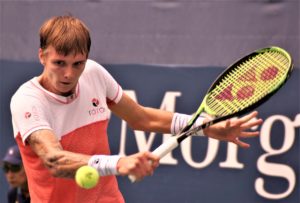 Making its début at the US Open at Flushing Meadows was the first range of tennis clothing in Dryarn.
In its role as technical sponsor, the Italian technical sports clothing brand YOXOI chose Dryarn to clothe two competitors, Alexander Bublik of Kazakhstan and Dan Evans of the UK.
The YOXOI brand has used its in-depth expertise to overcome the problems of high temperatures and heavy perspiration, with the goal of optimising player comfort. That's why it chose Dryarn, the lightest and most breathable microfibre on the market.
Bublik in particular praised the new outfit's exceptional breathability and rapid drying performance: "very, very comfortable, you never feel sweaty on court".
In fact, not even once during his second 5-set victory under a burning sun did he feel the need to change his shirt – when professional players in these conditions usually change at least once per set.
The new YOXOI range is already available online (www.yoxoi.com) and will arrive in stores in the next few months.