LOTS OF PARTICIPANTS, AMAZING SCENERY, A UNIQUE HALF MARATHON: THE GARDA TRENTINO HALF MARATHON
16/11/2016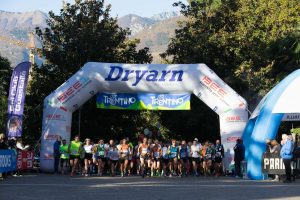 Strudel Parties and breathtaking scenery. Looking up you can admire the unique shapes of the Dolomites and looking down the spectacle of Lake Garda, a fantastic landscape that helps to lighten the effort: this is the Garda Trentino Half Marathon.
A half marathon different to any other, that everyone finished with a smile. Some people saw it as training, others as a chance to improve their personal best, and yet others as a very different Sunday of sport in the fresh air.
There were 5,426 participants, a record, and the race bibs had run out several days before the event.
The day of the race seemed to threaten rain but the weather held up throughout. It was cold, but the conditions were perfect for running.
The men's race was won by Jonathan Kosgei Kanda, repeating his success of last year in 1h 5min 17s after a tight contest in the last few metres. Silvia Weissteiner crossed the line first among the women after a less closely-fought but equally exciting race, with a time of 1h 15min 11s.
Organizer Sandro Poli commented: From someone who's worked all year doing his best to make your Garda Trentino Half Marathon as wonderful and exciting as possible, thanks to all you runners for taking part, for your smiles, for your pats on the back, and for your comments that I want to share with everyone else who's shared this hard work together with me. Happy running, everyone. Sandro Poli"
Until next year!