Aldo Mazzocchi – Yukon Artic ultra
23/07/2013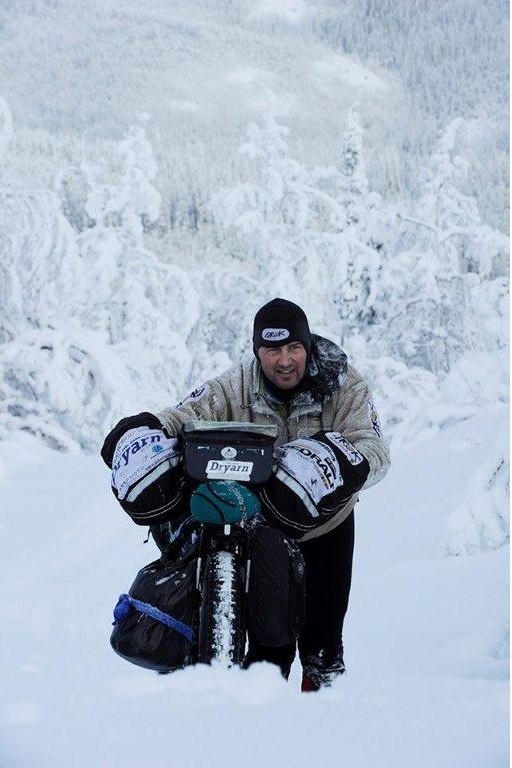 Believing in impossible challenges is part of Dryarn's DNA. Created more than 10 years ago in Aquafil's research and development labs to support athletes in their sporting activity, Dryarn has intrinsic characteristics that make it a unique fibre and a winning ally and in the last few years a vast number of athletes have competed, and won, in Dryarn.
In partnership with many sportswear brands, Dryarn has climbed to the top of the podium on many occasions but there are some exploits that have marked the brand's history more than others.
These include the latest exploit by Brescia lawyer Aldo Mazzocchi who, on 13 February, was the first to pass the finishing line in the Yukon Arctic Ultra, rightly considered the coldest competition in the world: 700 kilometres across the Arctic ice, from Whitehorse to Dawson City in Canada's Yukon Territory, on a fat bike, in the shortest time possible. First and foremost it was a personal challenge of resistance and of self-sufficiency, melting snow to quench his thirst and sleeping under the stars, at -40°C!
Dryarn had already accompanied Aldo Mazzocchi on other extraordinary exploits. In 2008 it went with him to Australia, 4667 kilometres coast to coast across Australia on a mountain bike, and in 2010 on the River Niger, where Aldo covered 1800 kilometres in his canoe, from Guinea, through Mali, to Niger.
Again it believed in the ability of this formidable athlete and was at his side as technical sponsor.
Aldo chose to wear Dryarn again because in his previous exploits it had already proved to be absolutely comfortable, thanks to its rapid drying and high level of thermoregulation that protects the body from sudden changes in temperature. Dryarn's partner SIXS is the brand that produced Aldo's equipment for this exploit.