ALL THE EMOTION OF THE LAVAREDO ULTRA TRAIL WITH DRYARN®
28/06/2018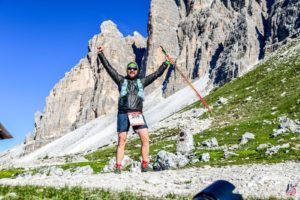 I set out with the idea that it was an entry-level race, one of those that just go to pad out your CV. "Just something you've got to do, anyway it's easy and it's quick"; well I might as well write this idea down on a piece of paper, add salt and pepper and eat it. This race is extremely demanding. Sure, you can't compare its characteristics to an Ultra Sky but it lacks for nothing, with enough intensity to exhaust a super-hero. And an allure that grows mile after mile.
We set off from the centre of Cortina roared on by a sea of fans worthy of a stadium, which I've never known elsewhere in Italy .
We find ourselves immediately playing catch-up because we're here 45 minutes before the start, but it's already full of people and we're the wrong side of the crowd barriers. A night spent in the woods partly trying to get ahead a bit and partly to obey the orders of Fra (Canepa), who's told me to cool it for 70km and then open up. My memory's still confused but it was a very cold, dynamic night, with open windy climbs and woods going downhill, curiously peering at who was around me, then the first light of dawn and a resulting thermal caught me while I was climbing towards Lake Misurina. Huge anxiety caused by an over-narrow gate.
Luckily I was in the woods which sheltered me, and we woke up together in the warmth. I leave the forest with the mountains fiery in the sunlight, I feel good, the air is fresh. Dryarn combo underwear, with a perfect T-shirt and outer shell, I open my eyes wide towards Lake Misurina – very beautiful, I have to follow one side to continue up towards the Auronzo Hut.
An interesting, long, continuous climb, I want to go on but I obey orders, I find Renato (Jorioz) at the hut who takes me inside to the warmth and gives me breakfast with potatoes and tuna. Seen in the flesh, the three peaks are striking. Truly imposing. It's cold and my face is suffering. A technical descent towards the valley at about 1000 m – tough but I don't care. I'm in heaven and feel grateful and lucky to be there in that instant. There are cows, there are flowers and waterfalls, I really can't ask for more. As I arrive on the level I accelerate, but then I twist over and crumple the left side of my body to the ground. I get to the Cimabanche Pass somehow or other, but it's halfway so who cares. I go straight to the hut on one side where Renato is waiting for me with pasta Amatriciana and beer, which I devour while I'm sorting out my backpack. I set off again wearing my sweatshirt, which I can't take off because of the cold. The next 25 will be a psychedelic experience but I don't know that yet, and then the ascent begins towards Malga Ra Stua. There Fabrizio looks in trouble – he turns to jelly and looks at me with a face like Gandalf's before plunging into the abyss of Moria. Poor guy, I feel sorry for him, sometimes you end up defeating yourself. Ultra trails are big thing for the mind, a horrendously thorny problem that has to be tackled. A nightmare descent that I hate with all my guts. Everything hurts with every step I take and I hate the world. Then the big climb of Val Travenanzes begins, pure psychedelia, a landscape that's a cross between the moon and the Grand Canyon and ends with a technical col. I arrive at Gallina after a runnable descent, I change clothes but cover up more. Twenty-five kilometres to go, it's now practically over and I'm  optimistic in a hyperthymic kind of way… I go up and down saddles and passes, but in the meantime I've developed reflux and I've got the fires of hell behind my breastbone. I clench my teeth at the refreshment zone, they've got nothing, I latch on to a group of runners and I let the gravity take me down. I'm later than expected but this nausea from the reflux prevents me from pushing more.
After a difficult patch I luckily reach a checkpoint that's got beer and coke. I drink half a litre. Gradually I start to run a bit, I run towards the finish line over the asphalt while trying not to get caught by two annoying French runners who want to overtake. The main street at 4'15" – great cheering support. I smile, get my breath back and cross the finish line.
Massimiliano Bertini