INTERVIEW WITH TRAIL RUNNER FILIPPO MENOTTI
13/12/2016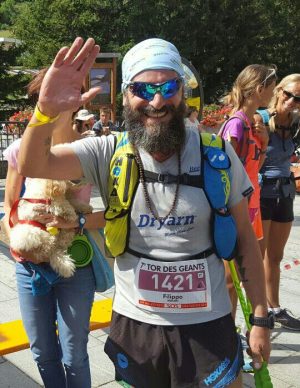 Filippo Menotti is a trail runner who loves adventure through running, trekking and mountain biking.
From one adventure to the next his dream becomes reality. And always at his side is Dryarn.
We decided to ask him a few questions, to tell us about his latest challenges.
"Filippo, you've been a star participant in lots of adventures. In September you took part in the Tor de Geants, considered to be  the toughest trail in the world. Can you tell us something about your experience?"
"Yes, the Tor des Geants is certainly one of the toughest trails in the world but I regard it more as a journey with myself, because as well as the unique beauty of the landscape there's also a spirit of sharing with the other participants. The strength of Tor also lies in the great people of the Aosta Valley and the volunteers who help and welcome you at any time of day or night – they make sure that you lack for nothing, and their warmth always gives you the strength to keep going."
""What was the best moment? And what was the most difficult?"
"The best moment of the Tor was the ascent up Col Crosatie at nightfall, it was a uniquely moving experience. Then when we arrived at the top there were volunteers with hot tea welcoming us with a smile. It was also moving to pass the place where, a few years previously, a Chinese athlete lost his life. And leaning on a small rock with his plaque brought tears to my eyes. The most difficult moment of the Tor for me was pulling out at 2700 meters on Col Entrelor. The previous August I'd successfully completed my solo challenge in running across Sardinia from Olbia to Cagliari, passing through the hinterland with its forests and mountains, and 450 km and 14,000 m D+ in eight and a half days had taken its toll on me a bit, also due to the high temperatures. When I left for the Tor I wasn't 100% fit, and I paid for that.
"We know that Dryarn is your faithful companion in every adventure…"
"I use Dryarn products in all my daily training sessions and my events, and they're excellent products. For my challenge in Sardinia I used Dryarn Olmo Line short-sleeved T-shirts and they were great – lightweight, comfortable and quick to dry. Whereas for the Tor I used both the short-sleeved T-shirts and the long-sleeved thermal ones. The long-sleeved thermal ones are fantastic. They're soft on the skin, and when you're sweaty you never feel cold because they dry quickly and retain your body heat. In 2016 I wanted to finish the year with a challenge on home territory, so on Saturday 3 December I set off to do the Giro del Lago Maggiore. I ran non-stop followed by my coach, the triathlete Alberto Mereghetti, who assisted me on the road for 160km riding a Fat Bike, and the whole time I wore the Dryarn long-sleeve T-shirt."
"Why is your motto Run For A Dream?"
"Because the challenges I do are born of a dream. I dream them, I imagine them and then I build them with passion, sacrifice and a determination to do them, experience them, talk about them and see them through.