MARCO OLMO AND THE MARATHON DES SABLES: AN UNENDING LOVE
21/04/2017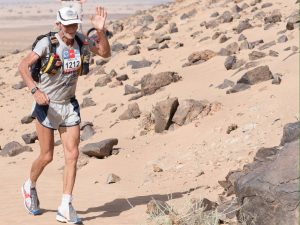 49th overall in one of the world's toughest races, at the age of 68.
For Marco Olmo, this year's Marathon des Sables was a triumph. After the first 3 stages he was in 34th position, running with an unrivalled consistency of pace. During the big 86 km stage he was placed 95th, slipping to 51st in the overall ranking, but then recovered in the final marathon and finished in  49th position overall, the 3rd-placed Italian and first in the veterans category.
An outstanding result – completing the Marathon des Sables in the top 50 is an achievement that is difficult even to imagine. But he did it, for the twenty-second time in his career.
When he talks about the race, however, Marco starts with the things that didn't go so well, those that can be improved. Because to overcome your limits you've first got to know what they are – that's the secret of his never-ending career.
When asked  "are you satisfied?" he replies: "Not with the long stage". That's what makes a champion.
And it's precisely his habit of calling everything into question that has enabled him to get where he is. Marco is continually experimenting to find the optimal nutrition, the right equipment and the best  clothingin order to race. This is why he's chosen to run in Dryarn, because it's the lightest fibre in nature, it's breathable and ideal in all weather conditions, enabling the body to breathe and adapting to any temperature. The v-shaped neckline was requested by Marco himself for optimal breathing, because he always seeks the maximum comfort during physical exertion.
Another challenge has been met, and tomorrow morning Marco will wake up early for his usual morning run, continuing to dream as always.