MARCO OLMO WINS THE ULTRA BOLIVIA RACE 2016
28/09/2016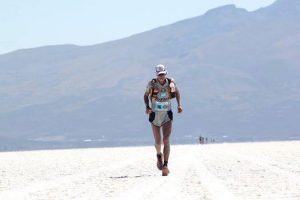 The Ultra Bolivia Race, a course of 170 km, all at altitude, between 3,600 and 4,000 m.a.s.l.
In 16 hours, 44 minutes and 10 seconds there's just one man at the finish line, his grey jersey bearing the word Dryarn, and his name is Marco Olmo.
Two and a half hours go by before the second competitor arrives at the finish line.
Marco has won again. Genetics might suggest that it'll be the last time, but it's been suggesting that for over 10 years.
Right after this latest exploit we asked our super-testimonial a few questions:
Q: What were your feelings as you crossed the line? What does it mean for you to win a race at 67?
A: Crossing the line just a few days before my 68th birthday was very important – even if it's a minor race, if you add the altitude to the self-sufficiency factor (over 16 hours, ed.) it was very challenging.
Q: The pleasure of racing is one thing, but winning is another. Where do you get your motivation to give your utmost, both in training and during a race?
A: I have a book coming out soon in which I'll be giving advice to the not-so-young about the good habits needed to keep fit. This victory is an example of those good habits in action, they're what gives me my motivation every day.
Q: If you could go back 20 years, would you change anything in the way you race and train?
A: Why should I change anything? Life is like a river, it only goes forwards.