Paola Riverditi and her passion for Enduro: where tenacity and technique take the place of physical strength.
18/05/2017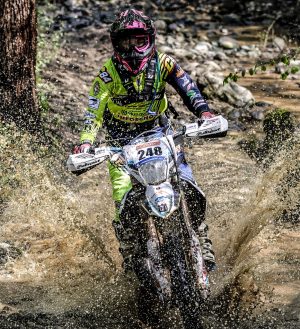 Paola Riverditi was born in Alba on 1 April, 1983, and has always shown a strong passion for sport. In 2009 she began to be involved in off-road motorcycling, after which she threw herself with great enthusiasm into the discipline of Enduro.
Paola wears our Mico garments – created with Dryarn – during races and in training, and we asked her a few questions to find out how this "extreme" passion of hers was born.
Q: Tell us about yourself in a few words. Name and surname, age, place of origin, passions.
P: My name is Paola Riverditi, I'm Piedmontese by birth but I feel that I'm a citizen of the world because I travel often and I never stay still.
I compete in enduro at national and international level. My passion for motorbikes was born when I was a little girl, watching my brother blazing around the motocross circuits.
I came to own my first motorbike when I was twenty-five and just for kicks I started hanging around in the Motorally scene, but my adventurous instinct, mixed
with lots of effort and passion, has led me to compete until now at the highest levels in off-road racing.
Being design-oriented and creative by nature, I look for companies to support me through innovation, materials and technologies.
Q: If you think about your exploits, what is it that makes them extreme?
P: Enduro is a very tough sport, one of resilience.
The races last from between six to eight hours, during which the weather conditions mean nothing and you really put yourself to the test. Everything is against the clock with respect to your opponents, but you don't know the route and the unknown factors are how your body, your mind and the bike will react to the strain.
The myth that needs busting is that Enduro or other motor sports aren't really for women. Focus and technique are sometimes more important than pure physical strength, and this factor also gives me the determination to reach my goal.
Q: What garments have you worn?
 P: Long sleeve high-neck tee and tights (official Ita).
Q: Tell us about your experience of Mico garments made with Dryarn.
 P: The races go on for many hours but the intensity of the physical effort isn't always the same, and I've found the right compromise using garments made with Dryarn. It's very good at limiting changes in temperature even over such long races, so that after a special test I dry quickly during the transfer, ready for the next special test.