1177 SOCKS MADE WITH DRYARN®: STYLE AND PERFORMANCE
06/06/2022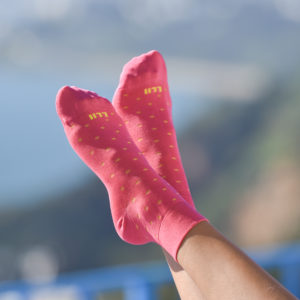 Polka dots, stripes, bright tones and eye-catching patterns but also comfort, practicality and performance.
The socks in Elevenseventyseven's SS 2022 collection are an explosion of colour, making them must-have accessories for a summer of fun: garments that are not just fashionable but also extremely innovative and high-performance, to wear both at home and at work in absolute comfort. All made possible thanks to Dryarn®, the innovative yarn chosen by 1177 to create its collections.
Dryarn® is the lightest microfibre in the world, with unique properties of thermoregulation and breathability. Used in the weave of the fabric, Dryarn® makes 1177 socks extremely lightweight and comfortable, ideal for everyday use.
Moisture and perspiration are wicked towards the outside of the fabric, evaporating quickly and leaving the skin dry and free to breathe. The insulating properties of Dryarn® – superior to those of any other fibre – enable the body to maintain a constant temperature in all weather conditions. Thanks to Dryarn® the socks are also extremely durable and not prone to abrasion.
Researched to perfectly follow the anatomical shape of the sole of the foot, Elevenseventyseven socks are marked with the words "left" or "right" to ensure the right level of comfort throughout the day. The fun and "urban-style" metal pack makes them a unique accessory, a real must-have for the summer.