ALBERTO TOMBA. TO CELEBRATE HIS 50th BIRTHDAY, A CHAMPION'S UNDERWEAR RANGE
09/01/2017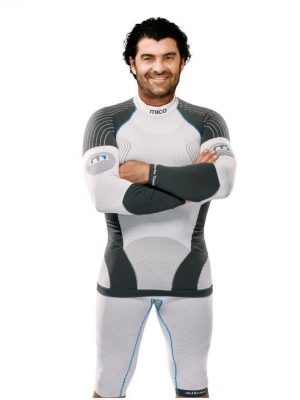 For everyone who's ever seen him ski, Alberto Tomba is simply a legend. Over the course of an amazing career he's won everything – the World Cup, Olympics and World Championships.
Alberto Tomba won 50 World Cup races, the World Cup overall in 1995, eight speciality cups, and above all lots of medals. Olympic gold in the giant slalom in Calgary 1988 and Albertville 1992, gold in the slalom in Calgary 1988; silver in the slalom in Albertville 1992 and in Lillehammer 1994. In the World Championships he was less prolific, but still won gold in the giant slalom in Sierra Nevada 1996, bronze in the giant slalom in Crans Montana 1987, and bronze again in the slalom in Sestriere 1997. He's the only skier to have won at least one World Cup race in each of eleven consecutive seasons, from 1987 to 1998.
On 19 December he'll be 50 years old, and to celebrate will be launching a technical underwear range that will soon be available in the best ski shops: MC1 ALBERTO TOMBA. A super-concentrate of technology dedicated by Alberto to all skiing enthusiasts.
Every sport has its own tricks just as every sportsman has his own secrets, and Alberto Tomba knows, from personal experience, that good equipment can really help to improve performance. That's why he's teamed up with Mico, leader in this sector, to create a high-quality, innovative and high-performance underwear range. The first layer next to the skin is the most important for a skier, and this is precisely where Alberto's research has been focused.
MC1 ALBERTO TOMBA is a range for men and women that includes tees, pants and technical socks. To create them Mico Sport and Alberto Tomba have selected Dryarn, the lightest microfibre in the world, an exceptional material that offers equally exceptional product performance. Breathable, thermoregulating, bacteriostatic, Dryarn is the material that can make all the difference for comfort and wearability.
Alberto's expert recommendation is the best possible guarantee of an outstanding product.
MC1 ALBERTO TOMBA is available in the best shops and online at www.micosport.it.