ALTEREGO BY OUTWET. SUPER BREATHABILITY CON DRYARN®
20/06/2018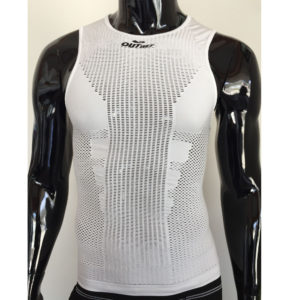 Just in the shops is the new ALTEREGO summer base layer cycling vest by OUTWET, developed with meticulous attention to detail and a continuous dialogue with professional cyclists.
Every Outwet garment is created by concentrating on quality, technical characteristics, type and above all the needs of those wearing it; with a total focus on breathability, Outwet® has chosen Dryarn® to create the  Alterego range.
Dryarn®, an ultra-light, breathable and thermo-regulating fibre, makes garments exceptionally comfortable. The mesh plays a central role, with the technical characteristics of the yarn and the coiled construction of the holes encouraging maximum breathability. The unique design with smooth inserts was very deliberately designed to provide protection for the most sensitive parts of the chest, avoiding uncomfortable friction.
The original classic Outwet® mesh moulds and improves itself, and is indispensable for those who cycle with their heads as well as their legs. True cyclists – be they amateurs, professionals or just Sunday enthusiasts – know how crucial the right underwear is for feeling good on their bikes.
Alterego vests are available both in the classic black or white and also in the latest colours like fluorescent yellow or  orange. And for all those seeking even greater technical content, there's a version with metallic carbon fibre:
The special conductive carbon fibres absorb and disperse electric charges – preventing muscular contractions, fatigue and cramp and also reducing the concentration of lactic acid in the blood by 12%;
Carbon improves your body's electrical efficiency, encouraging  blood circulation and the supply of oxygen to the cells;
The carbon accelerates the sweat evaporation process, leaving the skin dry and maintaining a constant temperature;
There is an improvement in respiratory quotient and heart rate: with carbon fibres a lower amount of oxygen is needed during physical activity and there is a saving in the number of heartbeats;
Carbon further improves your physical well-being due to its antibacterial properties.