Calze GM has chosen Dryarn® for the Speed Hiking sock
03/12/2019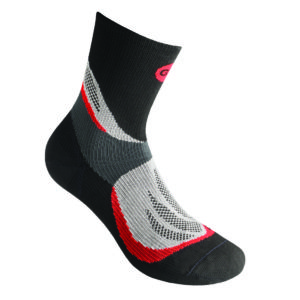 Whether they're engaged in winter mountaineering or a long hike on the Via Francigena, it's essential for trekkers to use the right technical equipment..
That's why Calze GM has chosen Dryarn® for the first time to create its Speed Hiking socks, the perfect technical garment for trekkers who need to travel fast and light without sacrificing comfort and freedom of movement.
Available in a unisex version for both men and women, the Dryarn® microfibre used in Speed Hiking socks means that they're light, breathable and durable.
Ideal for use in direct contact with the skin, they're dermatologically tested and bacteriostatic. Thanks to the ability of Dryarn® to wick perspiration to the outside, the socks always stay dry and prevent the proliferation of bacteria. Dryarn®'s extraordinary thermoregulatory properties also protect the body from extreme cold and temperature swings.
Calze GM Speed Hiking socks have an elasticised structure that hugs the foot and leg, enabling excellent stability inside the shoe. Thanks to the use of Dryarn® the knit is extremely thin but simultaneously resistant to abrasion.
Garments made in Dryarn® are easy-care, long-lasting, do not need particularly thorough washing or ironing and are resistant to pilling.