CMP E DRYARN®. SECOND LAYER IN HERITAGE STYLE
13/09/2018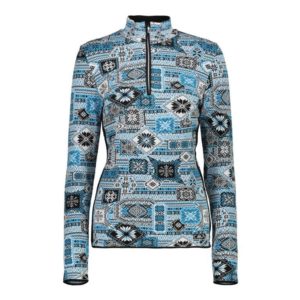 Comfort is the key aim for a range of second layer garments made by CMP in Dryarn®, specifically designed for skiers and athletes in all winter sports who need to keep warm, comfortable and agile in their movements.
Thanks to the high percentage of Dryarn® used, CMP sweaters are extremely lightweight, with excellent thermoregulation and a very high technical performance in terms of comfort and breathability.
CMP sweaters maintain a constant body temperature, protecting from cold and heat and giving a high level of thermal protection due to the high insulating capacity of Dryarn®. The skin also stays pleasantly dry thanks to the fibre's great breathability.
Additionally, the low specific gravity of Dryarn® enables the creation of fine, non-bulky, dry-fitting garments that perfectly follow the contours of the body and ensure that athletes enjoy maximum freedom of movement.
CMP sweaters are also practical to look after, easily machine washable, quick to dry and do not need ironing. They are colour-fast and abrasion resistant (with no pilling caused by rubbing) thanks to the high resistance to dampness of Dryarn® which prolongs garment duration and ensures the extraordinary maintenance advantages described above. This maximum wearability, low maintenance and thermal comfort are all "unique" features that make Dryarn® an invisible but essential presence in the most innovative fashion garments.
Created in a heritage style, these CMP second layers are part of the brand's skiwear range of the same name, a range in which technical qualities fuse with typical Italian elegance and style.
Retail prices start from € 119.95