COLNAGO CYCLING FESTIVAL 2020: THE INNOVATION OF THE X-BIONIC® T-SHIRT MADE IN DRYARN®
09/09/2020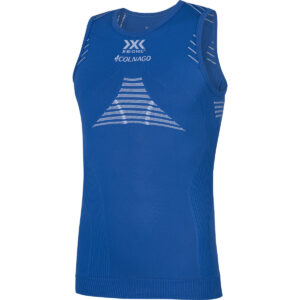 A few days before the start of the Colnago Cycling Festival 2020, scheduled for 2, 3 and 4 October at Desenzano del Garda, we remind you of one of the novelties of this 8th edition.
This is in the RACE PACK, which will include a garment that is unique of its kind: the X-BIONIC T-shirt® created in Dryarn®.
A big novelty for all those taking part in Colnago CF20: a mix of innovation, research and development, a garment researched down to the finest detail by the developers at X-BIONIC®, created in Dryarn® and signed Colnago: an outstanding triple line-up contained within one single product.
On the one hand X-BIONIC®, for over twenty years an absolute leader in functional underwear specialising in the design and research of new technologies for maximum performance. All with just one aim: to make possible what once seemed impossible. All X-BIONIC® technologies are also protected by international patents to make their clothing designs unique and one of a kind.
The researchers at X-BIONIC® analyse and equip the body as an integrated network of assistance systems to favour thermal stability and muscle coordination, drawing their inspiration from the laws of nature and the rules of biology. An example of this is RETINA, a smart fabric processing system used to produce the Colnago CF20 T-shirt. Inspired by the ability of this important part of the eye to transmit the world around us to our brains at the highest possible resolution, RETINA  technology enables the creation of a fabric with more detailed textures, precise positioning of the fibres on the athlete's body and greater compactness. Better structural definition leads to a garment that can improve thermoregulation, with a resulting improvement in sports performance.
On the other hand Dryarn®, the lightest microfibre in the world used to produce high-quality technical garments with a perfect fit and breathability. Wearing a garment in Dryarn® means practising your sport with the best equipment: the cutting-edge technology of Dryarn® gives your body the best possible conditions in terms of thermoregulation and comfort.
The coming together of these forces has resulted in a technical garment of the highest level that you'll be able to wear when you take part in the Colnago Cycling Festival 2020.
To keep updated on Colnago CF20 and for more details about the various initiatives please visit www.colnagocyclingfestival.com
Stay Tuned!