COLNAGO CYCLING FESTIVAL 2022. THE CYCLING T-SHIRT BY X-BIONIC MADE WITH DRYARN® HAS BEEN PRESENTED
19/01/2022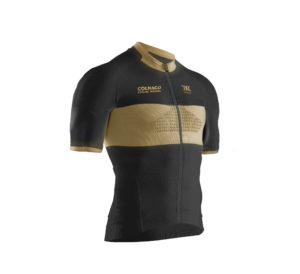 The race pack for the 2022 Colnago Cycling Festival has been presented. For its tenth edition, the two technical sponsors X-Bionic and Dryarn® wanted to pay homage to the competition with a limited edition garment for the first 2500 race entrants.
Two high quality companies, X-BIONIC® and Dryarn®, have come together again this year to produce a unique, high-performance technical garment.
To make the technical cycling jersey the best X-Technology Swiss technology has been used, strengthening the X-Bionic INVENT® 4.0 dedicated to the cycling world, which gives professional performance thanks to the exclusive technical innovation of the X-BIONIC® 4.0 products.
The jersey uses the characteristics of RETINA®, the innovative X-BIONIC technology that improves functionality, enables the precise positioning of the three-dimensional structures on the body and ensures thermoregulation. In addition, another fundamental characteristic of INVENT® 4.0, is the 3D BIONIC SPHERE® SYSTEM with which, in extremely cold or hot conditions, athletes will always have the perfect climate to optimise their performance and exceed their own limits.
The perfect combination with Dryarn®, the lightest microfibre in the world, produces a technical garment with perfect fit and breathability.
By wearing INVENT 4.0 in Dryarn®, the 2022 Colnago Cycling Festival athletes will be able to compete using the best equipment.
See you on 1-3 April at Desenzano del Garda!
More information at https://www.colnagocyclingfestival.com/