DAINESE and DRYARN® at ISPO 2019 with AWA and HP1 collection
01/02/2019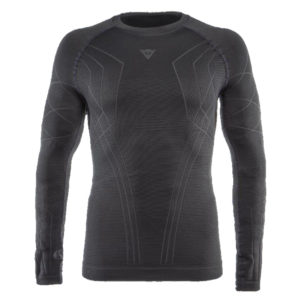 Ever since its launch Dryarn® has been synonymous with comfort and, after being initially sought-after by sportswear brands for the construction of base layer garments, it now also features in many second layer collections in combination with other fibres. Dryarn® is taking part in the next edition of ISPO together with many brands that have chosen the fibre for their collections. One of these is Dainese, which has chosen the lightness and breathability of Dryarn® to design a number of base layer and second layer garments for its A/W 2018-2019 ski collection.
The Dainese AWA and HP1 product ranges are now enhanced by base layer and second layer garments containing high percentages of Dryarn®. Dainese has chosen the lightness and breathability of Dryarn®, the lightest microfibre in the world, to design garments that are ideal for outdoor sports and activities of differing intensity.
Thanks to Dryarn®'s ability to wick perspiration to the outside while keeping the skin dry and favouring optimal body thermoregulation, the garments in the Dainese AWA and HP1 ranges are extremely pleasant to wear without sacrificing the thermal protection ensured by Dryarn®'s high insulation capacity and its ability to maintain a constant body temperature, giving protection from cold and heat. They're easily machine washable, quick-drying with no need to iron, colour-fast and resistant to abrasion.