Dryarn® and Berto together to create the future denim
29/10/2019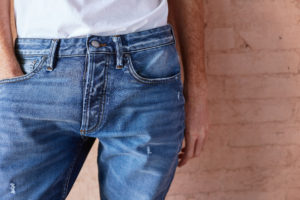 Denim is one of the most transformist fabrics there is, capable of interpreting the vagaries of fashion and adapting to the ever-changing needs of consumers.
It's been some years now since the performance of Dryarn®, already highly-rated by the best sports brands, arrived in the fashion world – giving denim lovers the benefit of real innovation. Dryarn®, the lightest microfibre in the world, is able to add a new dimension to denim based around lightness and comfort.
Replacing cotton in the weft with Dryarn® creates a denim that, when worn next to the skin, feels lighter and more breathable than cotton; the inclusion of Dryarn® in the weft produces a fabric that, given the same type of construction, is lighter, has better thermal insulation and better sweat management.
Sweat is wicked more rapidly towards the outside, leaving the skin dry; no concentrations of dampness (leading to possible sweat marks) are created, and once it has reached the exterior of the fabric the sweat evaporates and dries quickly and effectively.
The lightness of the fabric is not at the expense of its insulating properties – in fact DRYARN® succeeds in providing greater thermal insulation, creating a denim that's cooler in summer and more insulating in winter.
One of the latest results of Dryarn®'s denim-related R&D is its collaboration with Berto. The Padua-based company is about to launch its TRANSPORTATION collection, a denim range for a total look focused on the new concept of urban easywear and the need for garments that offer high levels of comfort in all weather conditions.
The new collection includes 4 different fabrics for the different uses of denim within fashionwear.
– 5 oz shirt weight with indigo-dyed cotton warp and a construction echoing that of technical clothing ("parachute fabric");
– 7 oz trouser weight with indigo-dyed cotton warp and a construction typical of high-density gabardine;
– trouser weight closer to a denim look with a well-defined diagonal suitable for developing a five-pocket garment;
– trouser weight similar to the previous item, with an "eskimo" construction designed for an outerwear garment on the lines of a de-structured jacket.
www.berto.it