DRYARN® celebrates 20 years of innovation and sport
25/11/2019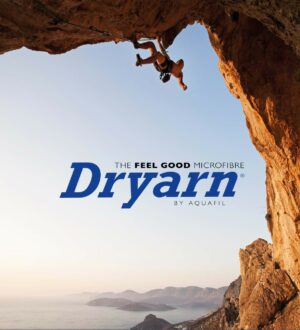 A major milestone for Dryarn®, the lightest microfibre in the world, which is celebrating the 20th anniversary of its first market launch.
Twenty years ago no truly high-performance product was yet on the market. Polyester and nylon were once the only alternatives to cotton and wool, but none of these fibres, whether natural or synthetic, possess the combined characteristics of thermoregulation, practicality and well-being that over the years have become essential requirements in sportswear design.
The Aquafil R&D department therefore came up with the idea of creating a yarn with the ability to enhance athletes' performance by guaranteeing maximum levels of comfort. Taking the polypropylene used by Aquafil's textile yarn flooring division, work began to create a microfibre with all the advantages of polypropylene that is also soft and imperceptible to the touch: a second skin that is a pleasure to wear and can be used in a diverse range of clothing categories, from underwear to sportswear to fashion …
In 1999 Aquafil launched Dryarn® for the first time, the only fibre on the market to offer high-level technology and comfort, lightness, practicality, stability, thermoregulation and bacteriostatic properties.
This represented a huge innovation in the yarn industry, which had in some ways stalled in its attachment to polyester, nylon and the advances of the 1960s. The arrival of Dryarn® was to be a major turning point in the market, and the big brands immediately began to use this exceptional microfibre to create collections in which quality and technology, modernity and comfort are fundamental requirements.
Sportswear manufacturers were the first to wake up to the possibilities offered by Dryarn®. Running, motorcycling, cycling, sailing, alpine sports, golf, horse riding: today, more than 10 years after its launch, there is no sports sector that does not use  Dryarn® to create technical and technological underwear and second layers.
Over these 20 years many athletes have tested Dryarn's capabilities both in training and in competition, appreciating its unique characteristics. Their exploits have illuminated the years with momentous results, entitling them to talk about microfibre with the authority of champions.
But sport is not the only sector to play a part in the story of Dryarn®, which has been used in sectors ranging from underwear to outerwear, in medical applications and even in food.
Its certification as being dermatologically tested (University of Modena and Reggio Emilia – Department of Dermatology), obtained in 2007, makes Dryarn® the perfect fibre for wearing next to the skin even for people with allergies and contact dermatitis. Ideal in underwear, Dryarn® has also been chosen in the manufacture of babies' bodysuits, an interesting application in view of the delicate nature of children's skin and the need for first layer garments that do not cause redness or allergies.