DRYARN® FOR THE WINTER UNDERWEAR BY MB WEAR
28/10/2021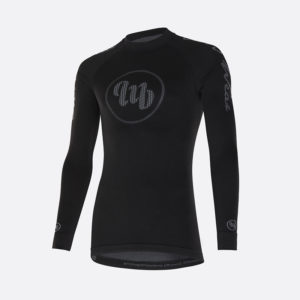 Ideal for all outdoor sports, from cycling to running to skiing. MB Wear undergarments, made with Dryarn® microfibre, are the perfect companion for the winter months.
A seamless jersey with a medium high turtleneck – giving greater freedom of movement – and long sleeves, with special "long" cuffs to ensure more elasticity and adherence, restricting how much air can get in from outside.
Ergonomic and comfortable, the MB Wear undershirt has been designed to support body shape and movements. The sides have been machined to give the garment great elasticity, making it extremely wearable and ideal for all types of physical activity.
Thanks to the very high percentage of Dryarn® used, the MB Wear jersey is structured to ensure maximum breathability and excellent thermal insulation, providing all the comfort and freshness of skin that stays dry even in the middle of intense physical effort and sudden temperature jumps.
The use of Dryarn® makes the MB Wear jersey extremely strong, durable and light. The bacteriostatic and dermatologically tested properties of the microfibre make the garment extremely hygienic, perfect for use as a first layer in direct contact with the skin, protecting from bad smells and the proliferation of bacteria, fungi and mould.
MB Wear's unique design combined with the exceptional performance of Dryarn® produce an essential undergarment for the coldest season.