FALL-WINTER 21-22. DRYARN® FOR THE TECHNICAL SPORTS UNDERWEAR BY OXYBURN
29/09/2021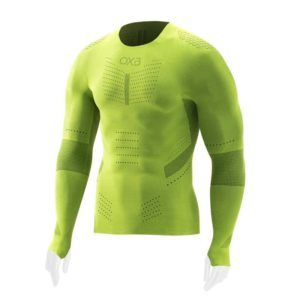 An ideal first protective and anatomical layer for all sportspeople who want to do physical activity outside even in the coldest months.
Oxyburn, a leading brand of technical sports underwear, still trusts Dryarn®, which it uses in high percentages to make high-tech and innovative garments with excellent levels of breathability. Thanks to the use of specific technologies and the choice of Dryarn®, the water-repellent, bacteriostatic, dermatologically tested and lightest fibre in the world, Oxyburn garments, release excess heat during intense physical effort, helping body heat regulation in all weather conditions.
Thanks to Dryarn®, the garments are extremely light and strong, do not wear and envelop the body to perfection, accompanying its movements without constricting them.
TALENT TROUSERS
The Talent long trousers have been designed to stimulate circulation, improving muscle oxygenation: acting on the venous flow, they reduce muscle vibrations, causing less fatigue and enabling increased physical endurance under stress. During the recovery phase, on the other hand, they accelerate the elimination of toxins and lactic acid, while the inclusion of an elastic anatomical structure helps movement control. The dense weave with medium compression is made exceptionally breathable by the presence of high percentages of Dryarn®. As well as not absorbing moisture, they are also very permeable: water vapour disperses without soaking the surface.
EXTREME JERSEY
Weighing only 120g, the Extreme jersey maintains the right body microclimate. The self-ventilating micro-mesh structure accelerates transpiration even during the most demanding physical activities. The Dryarn® layer means that the jersey dries quickly in hot weather through a natural cooling evaporative process and retains heat in cold weather, keeping the skin dry. The lack of seams and the raw-edge finish make the new model comfortable and multi-purpose, with practical holes for thumbs to cover the hands if they are cold.