FT DRYARN® WARM. THE FUNCTIONAL BASELAYER BY DYNAFIT
10/03/2022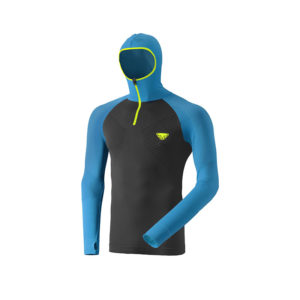 The arrival of spring and summer doesn't always mean milder temperatures, especially where high-altitude outdoor sports are concerned. And it's precisely with these activities in mind, and free touring in particular, that Dynafit – the leading mountain endurance sports brand – has developed FT Dryarn® Warm, a warm and functional baselayer designed for outdoor sports at extreme temperatures.
To create it Dynafit has once more turned to innovation from Dryarn®, the lightest microfibre on the market, highly insulating and able to protect against the cold while ensuring the highest possible comfort.
FT Dryarn® Warm is a men's jacket with an ultra-lightweight and breathable baselayer, a hood and a half-length zip.  It is almost totally seamless, using an intelligent body-mapping system that enables the air to circulate at strategic points. It fits the body closely, supporting movement and ensuring the best possible comfort.
Dryarn®, used in the weave of the fabric, manages heat to perfection, keeping the body warm and dry throughout the day and wicking the sweat produced during physical exercise to the outside of the garment.
Thanks to the bacteriostatic and dermatologically tested properties of Dryarn®, the Dynafit jacket is the ideal baselayer for all athletes who love outdoor sports even in adverse climatic conditions.