FW 2021-2022: ELEVEN SEVENTYSEVEN'S STYLE MEETS THE PERFORMANCE OF DRYARN®
11/11/2021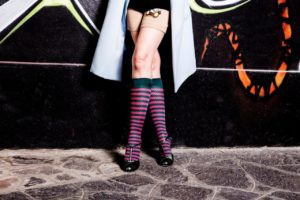 Basic lines, bright colours, charming patterns and glamorous decorations.
Eleven Seventyseven's urban-chic style meets the performance of the Dryarn® microfibre to create the socks in the FW21-22 collection, the must-have accessory for this season.
These extremely versatile socks are ideal for all purposes, to give personality and a touch of whimsy to every outfit: from sportswear to formal dress, homewear to more casual style.
A wide range of patterns, lengths, machining and finishing combine light weight, softness and comfort with excellent thermoregulation and breathability properties, thanks to the use of Dryarn®. 1177 socks are completely bacteriostatic and dermatologically tested, ensuring perfect hygiene, and are ideal for wearing next to the skin. Designed to accommodate and perfectly follow the anatomy of the foot, they also provide the right support and comfort throughout the day.
The Eleven Seventyseven socks made with Dryarn® are extremely strong and practical; they are durable and hold their shape and the brightness of the colours.
A perfect marriage of technology and style that can also be seen in the packaging. 1177 socks are sold in an unmistakeable can that gives these accessories with a chic-cosmopolitan soul a touch of street style.