FW 20/21. DRYARN® FOR THE MACRON RUN&TRAIN COLLECTION
01/10/2020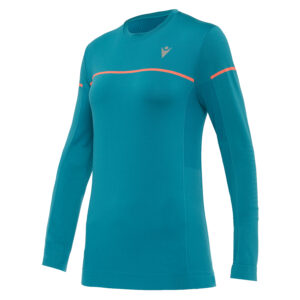 Having always supported runners and sportspeople, Macron is very good at interpreting their requirements. For years it has developed highly innovative and top-quality products using Dryarn®: the lightest microfibre in the world, capable of creating high-performance and very comfortable technical garments.
These include the Michael and Mary running tops in the Macron AW 20-21 Run & Train collection.
These soft, lightweight and breathable garments are designed to support and sustain athletes when training and competing, ensuring they have complete freedom of movement. What's more, Dryarn®'s ability to wick perspiration to the outside means that the body stays fresh and dry.
Garments made with Dryarn® are dermatologically tested, suitable for use next to the skin, and easy-care. They stand up to frequent washing while keeping their colours bright, they're not prone to pilling, they dry quickly and they don't need ironing.
MICHAEL seamless running top
A man's long-sleeved seamless top, which, as it contains Dryarn®, fits perfectly to the body of the person wearing it. It is extremely breathable and helps keep the body fresh and dry. Key details include the word Macron jacquarded on the back, the words WORK HARD, RUN HARDER on the inside, and the raised stripes on the sleeves and elegant weave at the top of the front, in fluorescent yellow.
Available in storm grey/fluorescent yellow.
MARY seamless running top
Thanks to Dryarn®, the woman's long-sleeved running top fits like a second skin, accommodating to perfection the movements of the person wearing it. The body remains fresh and dry thanks to the excellent breathability of the garment afforded by Dryarn®.
The back of the jersey has the jacquarded word Macron. Inside are the words WORK HARD, RUN HARDER in fluorescent pink. The raised stripes on the sleeves and the weave at the top of the front, also in fluorescent pink, give the garment a touch of elegance and style.
Available in emerald/fluorescent pink.