HP1 BL: FIRST LAYER OF DAINESE IN DRYARN®
11/09/2019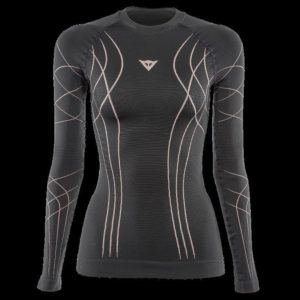 HP1 BL is the Dainese first layer, specially conceived for people who stretch the limits and designed to satisfy the most demanding skiers.
Years of research on the dynamics of the human body have enabled us to identify the points on the body that, while in movement, never contract or stretch. By joining these points along "non-extension lines", the pressure exerted on the body remains constant. This research helped the engineers at Dainese to develop the BIOSUIT, designed for NASA astronauts, and also inspired the structure of the HP1 BL M SHIRT/HP1 BL L SHIRT.
The combination of seamless technology with Dryarn®, the lightest microfibre in the world, ensures excellent insulation and the highest levels of breathability, freshness and comfort. At the same time, the "non-extension lines" ensure a compression effect that helps keep the muscles in position while skiing. The ¾ cut is also extremely practical, including while wearing technical socks.