ISPO 2022: CMP PRESENTS ITS TECHNICAL UNDERWEAR MADE OF DRYARN®
01/12/2022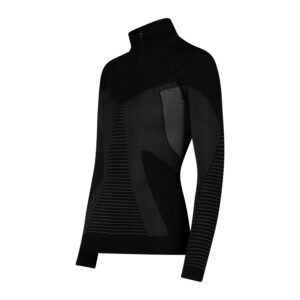 Always on the side of active sports lovers, Dryarn® and CMP have been setting the benchmark in the world of sportswear for many years.
To coincide with ISPO, the international trade fair focused on outdoor pursuits, CMP presented its technical underwear made of Dryarn® microfibre, a synonym for performance and innovation for over twenty years.
The top and jersey are ideal for all outdoor sports activities that call for the best performance in terms of breathability, thermoregulation and comfort. All benefits guaranteed by the inclusion of Dryarn® yarn in the weave of the fabric: ultra-lightweight, with better insulating properties than wool and extremely breathable, allowing the maximum freedom of movement.
CMP garments are ideal base layers thanks to their excellent fit, being also perfect in direct contact with the skin due to the bacteriostatic and dermatologically tested properties of Dryarn®.
The sports top and long-sleeved jersey are completely seamless, and thanks to Dryarn® they keep the body dry even during intense physical exertion – ensuring the skin is always cool and protecting it from chafing.
The hard-wearing properties of Dryarn® fibre also mean that these garments are easy to care for: they are long-lasting, dry quickly, do not lose their shape and do not develop bobbles.