MACRON AND DRYARN® TOGETHER FOR THE OFFICIAL TECHNICAL TOP OF THE BOLOGNA MARATHON 2021
29/10/2021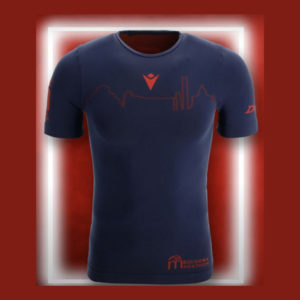 The 2021 Bologna Marathon will be run on Sunday 31 October, an unmissable event for runners and sports fans.
The official technical top of the Bologna Marathon is made by Macron, a leading active sportswear company and official technical sponsor of the competition, and is produced using the Dryarn® microfibre.
The jersey, available in a blue version with red details and a red version with blue details, is distinguished by the motif on the front showing the Bologna skyline: the "city of the porticos". At the top, in the centre, is the Macron Hero – the Emilian brand's distinctive logo – while the Bologna Marathon logo appears on the right sleeve and at the bottom of the jersey. The other sleeve bears the Dryarn® logo.
The combination of technology and innovative design, between Dryarn® and Macron, gives life to a garment with exceptional performance: comfortable, ergonomic, breathable and strong. The perfect ally for those running the Bologna Marathon!