MARCO OLMO COLLECTION BY CMP E DRYARN®
08/05/2019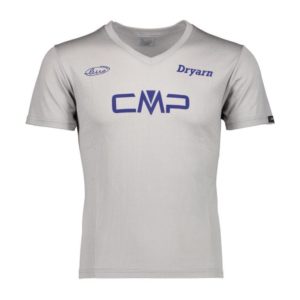 Created by CMP in collaboration with Dryarn®, the Marco Olmo Collection of shorts, t-shirts and socks can be found online or in the best specialist stores.
With a simple, essential and extremely technical design, the Marco Olmo Collection has been produced with the advice of Marco Olmo and is ideal for the more demanding athlete.
The trail running t-shirt is a replica of the famous t-shirt worn by Marco Olmo in all his victories. Made from Dryarn®, this hypoallergenic and permeable top guarantees maximum breathability due to its low-absorption and heat-regulating properties. Available in the original white version with blue lettering, the t-shirt is available in size 46 to 56 and retails at € 39.95.
The trail socks are also made with a high percentage of Dryarn®, exploiting the fibre's softness, resistance and breathability to the full. Marco Olmo trail socks are available in all sizes (from 36 to 48), and come in two-tone white and grey, black and grey and black and blue. The socks can be purchased at €15,95 per pair.
"I really appreciate the comfort, breathability and practical characteristics of these clothes, which have helped improve my performance. During intense physical activity, the optimal heat-regulation system helps regulate body temperature making you feel much cooler. Dryarn® also has exceptional insulating capabilities that help keep the body at a comfortable temperature in cold weather. I especially like the t-shirt, which has been a winning ally for me. Any perspiration that's not absorbed by the top quickly evaporates, leaving the t-shirt perfectly dry, so you're ready to take on the next stage of the race. I've also been able to test its resistance to unpleasant odours in many races", states Marco Olmo.