MARCO OLMO COLLECTION. THE RANGE OF RUNNING GARMENTS WITH DRYARN® BY CMP
04/06/2020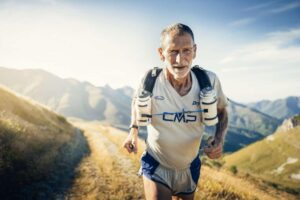 Created by CMP in collaboration with Dryarn®, the Marco Olmo Collection is the range of running garments dedicated to the great Italian ultra marathon runner Marco Olmo.
CMP's close attention to research and technology joins with the innovation of Dryarn® – the lightest microfibre in the world that has supported Marco Olmo in his exploits for many years – to create high-performance and comfortable garments
The Marco Olmo Collection stands out for its simple, essential and extremely technical style. Created following the invaluable recommendations of Marco Olmo, it is perfect equipment even for the most demanding athletes.
"I really like the practical, comfortable and breathable characteristics of these garments, which have improved my performance – says Marco Olmo. Their heat regulation performance is outstanding, so the temperature you feel on your body is far lower when exercising in extremely intense conditions. Dryarn® has an excellent insulation capacity that maintains a constant body temperature. I use the T-shirt in particular, which is a winning ally for me. Sweat quickly evaporates and the top stays perfectly dry, so I'm ready for the next stage of the race. In the many competitions I've taken part in I've also seen that the top is really resistant to bad odours".
MARCO OLMO LINE TRAIL RUNNING T-SHIRT
This T-shirt is a replica of the famous garment worn by Marco Olmo in all his competitive victories. It's made from Dryarn®, the lightest micro-fibre in the world. Extremely breathable and comfortable, it can support athletes both in training and when competing. It provides total freedom of movement, dries quickly and does not need ironing. All benefits that make it the perfect ally for both amateur and professional runners. Available in grey with blue lettering.
MARCO OLMO TRAIL SOCK 
The perfect socks for the most demanding runners, they stay dry even after many hours of usage. The combination of a high percentage of Dryarn® and Lenpur, a pure cellulose fibre which is environmentally friendly and healthy, means the garments have excellent heat-regulating properties and are extremely soft, for a superbly light, comfortable feel during prolonged physical activity. The socks have a rear reflecting tab for night-time running. The Marco Olmo Trail Sock is available in two-tone colours: white and grey, black and grey, black and blue.