MICO OFFICIAL ITA. SEAMLESS UNDERWEAR FOR CHAMPIONS WITH DRYARN
05/09/2017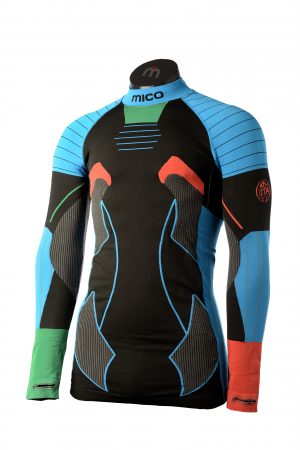 New graphics and new colours for one of the Mico garments that skiers love most.
Light. Warm. Breathable. Comfortable. MICO Official ITA seamless technical underwear is designed for use by athletes during sporting activities.
Mico has chosen to create its underwear collection using very high percentages of Dryarn to exploit its potential to the maximum. Dryarn is superior to other fibres in terms of thermo-regulation, breathability and speed of drying because it enables water, dampness and sweat to be carried to the exterior of the fabric and to evaporate rapidly, thus reducing the proliferation of bacteria and the formation of unpleasant odours. Dryarn offers better insulation than cotton or wool. It is dermatologically tested and constitutes the last line of clothing when it comes into contact with the skin. It has a much greater capacity than cotton to prevent contact dermatitis, irritation and allergies. Even among highly sensitive people and those with dermatological issues, it has no undesired effects on the skin.
All OFFICIAL ITA garments are created with Skintech® seamless technology and reinforced with ergonomic 3D protection at the shoulders and knees. Their elastic muscle-containment structure perfectly envelops the athlete's body for maximum comfort.
Full suit for men: top and knee tights.
Full suit for women: top and knee tights.
Retail price: Pant €43.90, Tee €69.90 – both men's and women's.