MICO SPORT AT ISPO 2019 WITH DRYARN®
31/01/2019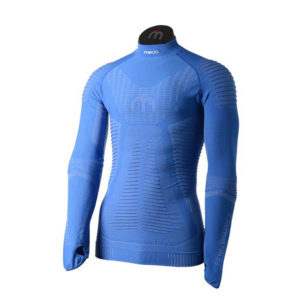 Dryarn® is the lightest fibre in the world, perfect for garments designed to unite practicality and style; it has always proved ideal for athletes and is now also sought after by fashion and urban wear brands.
Dryarn® is taking part in the next edition of ISPO together with many brands that have chosen the fibre for their collections.
The technology and design of Mico Sport and the technical performance of Dryarn® come together to create the innovative and high-performance MC1 WINTER PRO UNDERWEAR collection, which will be presented at ISPO 2019.
The collection – for men and women – comprises shirt, long pants and ¾ pants. These garments, all created with advanced textile engineering, use DOUBLE FACE technology to give maximum comfort next to the skin and rapid eternal drying.
Mico Sport has chosen Dryarn®, the lightest microfibre in the world as well as breathable, non-allergic and bacteriostatic, for the layer in contact with the skin. Using Dryarn® has enabled Mico Sport to design high-performance apparel, and thanks to Skintech® seamless technology MC1-Winter Pro Underwear combines excellent compression with a fabric technology that boasts exceptional breathability.
Dryarn®, combined with a hydrophilic fabric on the exterior, wicks away moisture from the body. The 3D SCALES create an air chamber between the first and second layers, assisting the evaporation of surface moisture.