NEWS ISPO 2020 : MICO PRESENTS THE NEW UNDERWEAR FOR SKIERS MADE IN DRYARN®
13/02/2020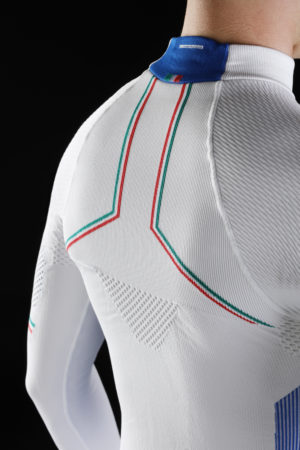 Having always been on the side of skiers, Mico and Dryarn® know full well that comfort, freedom and movement and protection are fundamental elements in achieving the highest possible performance.
In its quest for the perfect technical garment Mico presented its M1PERFORMANCE underwear collection at ISPO 2020: a high-performance and innovative first layer designed to accompany and protect athletes both while competing and in training, above all on the snow in winter.
The set – T-shirt, pant and socks – is available in men's and women's versions and will be on sale in the best sports stores for the AW 2021 season.
THE TECHNICAL UNDERWEAR SET, made using seamless technology in both men's and women's versions, offers a perfect fit and freedom of movement. Thanks to Dryarn® the garments are extremely breathable and able to protect the body from sudden swings in temperature, even in the coldest conditions. Bacteriostatic and dermatologically tested, Mico underwear sets are the ideal first layer for wearing in direct contact with the skin. They can withstand frequent washing, with the brightness of the colours remaining unchanged. They're easy-care, are not subject to pilling and are faster drying than any other garment.
THE SKI SOCK – medium weight
Structured to protect and wrap the foot even during the toughest races, M1 Ski Socks are made in Dryarn®, the lightest and most durable microfibre in the world that gives garments the best possible comfort characteristics, excellent breathability and a high level of thermal protection.
Dryarn is dermatologically tested and, thanks to its high breathability, protects the foot without creating redness; due to Dryarn®'s ability to wick perspiration to the outside the sock always stays dry, preventing the proliferation of bacteria.
The combination of invisible anti-friction seams, front reinforcements and elastic strips protects the foot, joints and surrounding muscles from possible injuries or abrasions from rubbing.