ON LAND AND UNDERWATER, OUTWET® AND DRYARN
28/03/2017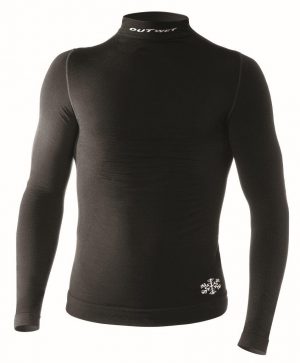 More and more people are falling in love with underwater sports, activities that allow them to dive in aquatic environments with or without equipment. This can be using the open-circuit aqualung air system or the closed-circuit oxygen rebreather system, respiratory methods that are autonomous or linked to respiratory mixtures that enable long periods under water.
There are people who dive for the love of it, as a hobby, and those who do it professionally. In both cases it's important to prevent hypothermia, i.e. a fall in temperature to below the norm, when performing all activities.
For all divers needing adequate thermo-insulation to wear underneath the drysuit there's now Outwet® Merino WP3, a turtle-neck thermo-insulating garment made in Dryarn and Merino wool.
Laboratory tests have shown that Dryarn is superior to other fibres in terms of thermoregulation, breathability and speed of drying because it enables water, dampness and sweat to be carried to the exterior of the fabric and to evaporate rapidly, thus reducing the proliferation of bacteria and the formation of unpleasant odours.
Its particular blend with merino wool helps the body's thermal self-regulation, ensuring that it remains warm in cold environments and cool in the event of an increase in external temperature.