OVERWIND. DRYARN® E OUTWET® PER UN ACTIVEWEAR DA CAMPIONI
09/03/2018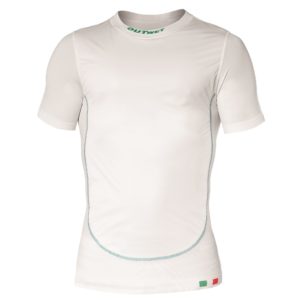 Outwet®'s promise is crystal clear: there's no compromising on quality or the materials. In fact, all the clothes are 100% Made in Italy, guaranteeing the highest quality standards and attention to detail.
Every day Outwet® is committed to keeping its promise and 'Performing the Difference'. Each garment is the result of scientific research to produce high-tech, cutting-edge, functional clothing that really makes a difference to an athlete's performance.
Enhanced sports performance and ergonomic designs, transform the athlete's fatigue into expendable energy, providing extreme practicality and wearability – even in more extreme conditions. In fact, helping you exceed your natural limitations is our primary objective, because our activewear is made for people who aren't afraid of winning or putting themselves to the test.
Outwet® has opted for Dryarn® because its built-in features guarantee athletes with an outstanding lightweight material that provides exceptional comfort, breathability and temperature regulation.  And the high percentage of Dryarn® used in each garment allows us to create unique, high-performance clothes that are made to last.
Technology and innovation meet in Overwind with an Xtex® Membrane. In fact, this underwear top combines the features of Dryarn® with the benefits of a waterproof, windproof, breathable membrane, making it the perfect choice for protecting and insulating the parts of the body that are more exposed to temperature changes.
Overwind is available in WHITE, SIZE 1 (S/M) and SIZE 2 (L/XL).