OXYBURN: 100% COMFORT FOR THE UNDERWEAR IN DRYARN®
18/12/2018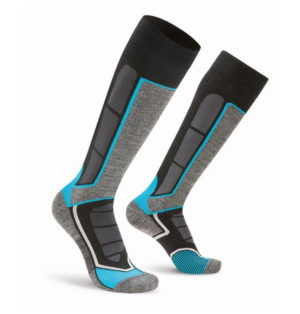 A technical and high-performance base layer that gives skiers the best possible comfort next to the skin, keeping the skin dry and facilitating body temperature regulation. To create its new ALPINE underwear collection – jersey, pants and socks – Oxyburn has chosen Dryarn®, the ideal fibre for all athletes who love tackling even the toughest challenges without foregoing their right to wear technical but comfortable garments.
When used in very high percentages Dryarn® offers incredible breathability and thermoregulation performance.
The ALPINE JERSEY with ALPEN PANTS are the perfect combination for winter sports athletes.
Their gradual compression, which provides muscle support, and the self-adaptive properties of their fit are the enhancing elements of these garments.
The TOUCH socks are extremely thin thanks to the use of Dryarn®, the lightest microfibre in the world. In combination with merino wool Dryarn® keeps the feet dry and warm, even in the lowest temperatures. Graduated active compression gives prolonged vitality and energy. Cold feet are no longer a problem!
Oxyburn is available at the best sports shops.