SHELTER: THE TECHNICAL JERSEY FOR WINTER BY OXYBURN MADE OF DRYARN® MICROFIBRE
19/01/2023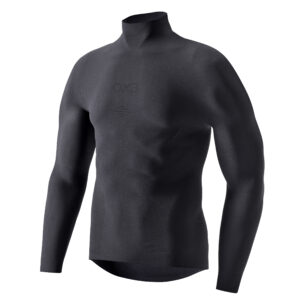 The famous Dryarn® microfibre, appreciated by so many sportswear brands for its incredible lightness and breathability, has again been chosen by Oxyburn as an ingredient in its new technical jersey for winter – Shelter.
The garment, with long sleeves and a high collar, is ultra-lightweight – just 120 grams – and created with raw-cut edges and no seams to ensure a perfect fit and maximum comfort.
The inclusion of Dryarn® yarn ensures excellent breathability for the skin and maintains a constant body temperature even in the event of significant thermal swings.
The properties of Dryarn® also allow perspiration during physical exercise to be channelled to the outside of the garment, leaving the body dry and free from possible irritation.
The Oxyburn Shelter jersey is designed for cycling sports, but is so versatile that it is also perfect for all outdoor sports in the colder months. It is an excellent thermal base layer , ideal for skiing  and and long mountain walks. It is perfect worn in direct contact with the skin, thanks to the bacteriostatic and dermatologically tested properties of Dryarn®.