SIXS: DRYARN® AND LANA MERINO FOR SPORTSMEN COMFORT
28/01/2019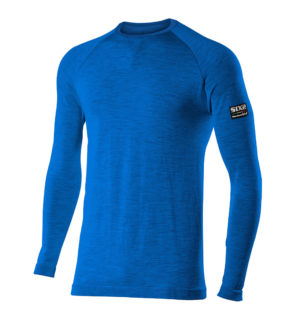 A combination of Dryarn® and Merino wool is the secret ingredient in the Carbon Merino Wool underwear collection by Sixs, a simple and highly versatilecrew-neck jersey that also makes an ideal second layer.
Dryarn® boasts a soft, pleasant feel, which is typical of micro-fibres, plus exceptional intrinsic technical features, that are stable because they are not due to the "temporary" processing of the fabric.  The THERMAL-INSULATING capacity of Dryarn® is unique, creating a breathable barrier that works as an inward insulator and as a vehicle for wicking perspiration to the outside. Thanks to its heat insulating capacity, enhanced by the combination with wool in the outer layer, Dryarn® allows fewer garments to be worn in winter and thus greater freedom of movement.
Dryarn® is insulating but also BREATHABLE. Dryarn® has a "natural" capacity to prevent the absorption of moisture and is highly permeable to water vapour. Together, these two factors give the fibre exceptional breathability: sweat evaporates quickly without soaking the fabric, thus ensuring that the skin is always dry.
Dryarn®, compared to other equivalent volume fabrics, has the least specific weight. This is an important feature of modern apparel, because it is one of the greatest indicators of comfort.  In sports competitions, just a few grams less can help you gain precious seconds. In your free time, the lightness of the fabric makes wearing garments even more enjoyable.
COLOUR: WOOL GREY – WOOL ANTHRACITE (NEW), WOOL BLUE (NEW)
SIZES S/M, L/XL, XXL/3XL
RECOMMENDED RETAIL PRICE(INCLUDING VAT): 79.90 EURO