SIXS PRESENTS BREEZYTOUCH, THE NEW UNDERWEAR LINE MADE WITH DRYARN®
14/04/2021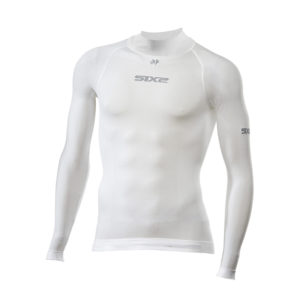 SIXS presents BreezyTouch, a new and innovative product line for the warmer months dedicated to motorcyclists and athletes in general. To create it SIXS relies on the performance of Dryarn®, the lightest microfibre in the world and unbeatable for breathability, comfort, thermoregulation and bacteriostatic properties.
A "touch of freshness": that's the feeling you get wearing one of the new SIXS BreezyTouch garments made in Dryarn®. Extremely lightweight and with an excellent fit, they embrace the body without impeding movement.
Ideal for wearing next to the skin, on their own or under normal sportswear, garments in the SIXS underwear line – thanks also to Dryarn® – keep the skin always dry. Even in very high temperatures Dryarn® wicks perspiration to the outside of the garment, eliminating excess moisture and the sensation of dampness that this can give. The result is a feeling of freshness and comfort without the proliferation of bacteria or bad odours.
SIXS Light BreezyTouch made with Dryarn® comprises six products. Ergonomic, breathable, comfortable and ultra-lightweight sleeveless shirts, T-shirts, leggings, helmet liners and full undersuits.