SS 2020 COLLECTION: DRYARN® for the Oxyburn technical compression underwear
17/03/2020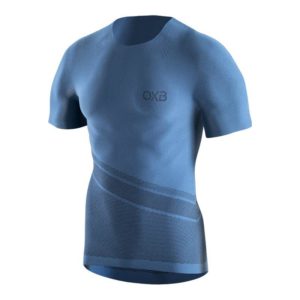 The typical innovation, quality, excellence and exclusivity of Italian-made products. This is what you can expect from Oxyburn technical compression underwear, which for its Spring-Summer 2020 collection has again chosen the technology of Dryarn® – the lightest microfibre in the world – to create hard-wearing, comfortable garments that ensure protection and freedom of movement.
An advanced fit that perfectly hugs the body, adapting to its movements with special structures of differing densities to prevent rubbing and ensure stability. Exploiting modern technology, these garments are designed to stimulate the activation of the athlete's primordial cortex, for a reconnection with nature during physical activities.
Thanks to Dryarn®'s thermoregulatory properties, the body's biological transpiration is maximised during any activity and in all climatic conditions. Oxyburn garments support the muscles like a second skin, embracing the body and helping to optimise sports performance. What's more, Dryarn®'s ability to wick perspiration to the outside means that the body stays fresh and dry, ensuring the best possible comfort while training.
With Dryarn® garments are easy to care for, stand up to the test of time and frequent washing, dry very quickly and do not need ironing.
CROSS T-SHIRT
Cross is a new men's underwear T-shirt in an ultra-lightweight compression fabric that maintains a perfect microclimate for the body. Thanks to Dryarn®, the layer touching the skin is antibacterial and hypoallergenic. Its self-ventilating micro-mesh structure accelerates the transpiration of sweat, leaving the body dry even during high-intensity physical activities. The total lack of seams and raw-cut finishes gives a sensation of total comfort.
MOVE T-SHIRT
The soft, lightweight fabric of the Move T-shirt promotes transpiration, keeping the skin dry. The layer touching the skin, made using Dryarn®, is antibacterial and hypoallergenic. Move's excellent fit ensures the highest possible comfort, making it an ideal T-shirt for any sports activity.
AXO SHORTS
Compression shorts designed to stimulate the circulation by improving muscle oxygenation, making them ideal for a full range of sports. They specifically act on the venous return flow and reduce muscle vibrations, enabling significant energy savings, lower heart strain and an increase in physical endurance under stress. During the recovery phase, on the other hand, they accelerate the elimination of toxins and lactic acid. Compression on the thigh also gives a sensation of control and total reactivity.
Made in Dryarn®, Axo shorts offer high breathability and thermal insulation, essential in adapting to all climatic conditions.
LEVITATE SOCKS
Levitate socks have a micro-mesh structure with carbon fibre inserts to give a shock-absorbing effect, reducing recovery times and accelerating the elimination of lactic acid. The differing densities in their structure ensure a perfect fit and total protection. Thanks to Dryarn®, the layer touching the skin is antibacterial, hypoallergenic and breathable.