SS 21: MACRON CHOOSES DRYARN® FOR THE MAX AND MARGOT T-SHIRTS
17/03/2021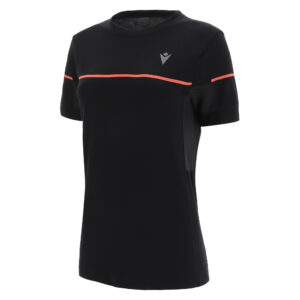 The unique style and design of Macron meets the innovation of Dryarn® in Max and Margot, the T-shirts for the Spring-Summer 2021 collection.
Soft, lightweight, breathable and extremely high-performance garments that accompany and support athletes both while training and competing. They ensure total freedom of movement and keep the body cool and dry thanks to Dryarn®'s ability to wick sweat to the outside.
Macron T-shirts made with Dryarn® are dermatologically tested and easy-care. They stand up to frequent washing while keeping their colours bright, they are not prone to pilling and they dry rapidly.
Max men's crew-neck T-shirt
A seamless, extremely breathable and high-performance T-shirt. The inclusion of Dryarn® in the yarn allows freedom of movement and gives a feeling of comfort and freshness even during high-intensity workouts.
Available in two colour combinations: fluo yellow with black details and navy blue with fluo yellow details.
Margot women's crew-neck T-shirt
Soft and lightweight, this seamless T-shirt keeps the body cool and dry thanks to the high breathability of Dryarn®. Giving high comfort and performance it fits the body like a second skin, ensuring the best possible freedom of movement.
Available in two colour combinations: white or grey with fluo coral details.