THE NEW 1177 SOCKS COLLECTION MADE WITH DRYARN® IS A MUST-HAVE THIS WINTER
23/11/2020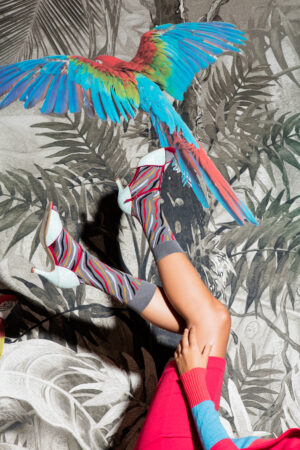 A synonym of novelty and futuristic vision, the Eleven Seventy-Seven socks made of Dryarn® are the must-have accessory this winter. These essential yet at the same time original and trendy garments give every outfit a touch of chic cosmopolitan as well as streetwear style.
The attractive cherry red, silver grey, petrol green and pale flesh colours go perfectly with the brilliant patterns of vertical stripes, alternating and horizontal ribs, geometric motifs, polka dots and animals.
The use of Dryarn® makes these 1177 socks year-round accessories, ideal for every use: whether in the city or the mountains, at home or travelling, or for formal or casual wear. The new garments show the quality of theDryarn® thread in a wide range of patterns, lengths, machining and finishing and combine light weight, softness and comfort with excellent thermoregulation and breathability properties. Completely hypoallergenic and dermatologically tested, the 1177 socks ensure perfect hygiene, are ideal for wearing next to the skin, do not build up static and do not attract dust from the surrounding environment.
Designed to accommodate and perfectly follow the anatomy of the sole, the Eleven Seventy-Seven socks are marked "left" and "right" to ensure complete comfort throughout the day.