TRABALDO GINO, DRYARN® ON THE SKIN
12/07/2019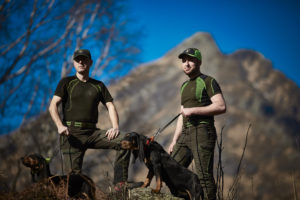 In the hunting world Trabaldo Gino is seen as the assured choice for everyone who loves nature and a life of freedom in the great outdoors. Trabaldo Gino clothing always guarantees style, excellent durability and unrivalled performance, and for this reason the company has chosen Dryarn for its base layer to be worn next to the skin.
Trabaldo Gino underwear is made with SEAMLESS technology and a body-mapping structure, to differentially control the internal micro-climate of different body areas during the various stages of sports activity. At low temperatures the body seeks to regulate its temperature through vasoconstriction and shivering; during intense sports activity, on the other hand, its first thermo-regulatory reaction is perspiration. In both cases there is a feeling of discomfort and a loss of energy.
The BODY MAPPING SYSTEM offers special benefits in managing perspiration, heat and compression. The CLIMA-CONTROL system acts together with the BODY MAPPING SYSTEM where and when needed to create a constant internal micro-climate without over-heating or the build-up of perspiration, helping to maintain an ideal body temperature for longer both when exercising and during periods of inactivity. Given the shape of the body, the build-up of perspiration is not uniform during intense sports activity. This is where BMS steps in, differentiating the structure of the fabric where needed:
areas with medium heat build-up with a closed mesh;
the chest in the sternum  area and the back along the entire vertebral axis are the sites of greatest moisture build-up. With their open-mesh structure, SWEAT–WINDOWS open up an immediate escape route to evaporation, acting as a decompression valve and preventing the build-up of perspiration while speeding up the residual elimination of moisture in the inner layers;
areas of medium heat build-up with a honeycomb mesh to promote air interchange;
areas of medium heat build-up with an open mesh to speed up the flow of air at scapular points of contact with the backpack,
DRYARN® is light, insulating and breathable; it is a very stable fibre, not prone to shrinkage and expansion like traditional fabrics, for a long-lasting fit that retains its shape. DRYARN®'s totally hydrophobic qualities and its high surface tension enable moisture to be rapidly wicked to the outside, with a constant feeling of dryness and warmth of the inner layer next to the skin. Furthermore, DRYARN®:
– is the lightest fibre existing in nature, a lightness that brings a pleasant sensation of comfort, agility and freedom of movement;
– has a high level of insulation. DRYARN®'s thermo-insulating capacity is unique and superior to that of wool, creating a breathable barrier that works as an inward insulator and as a vehicle to wick perspiration to the outside;
– is anti-odour. DRYARN® is immune from the build-up of unpleasant odours caused by the proliferation of bacterial flora lurking in the damp areas of garments;
– is hydrophobic. Its totally hydrophobic qualities convey moisture and perspiration to the outside where they evaporate, keeping the skin dry at all times.