UNDER SHIELD® CHOOSES DRYARN® FOR ITS TECHNICAL UNDERWEAR
08/05/2020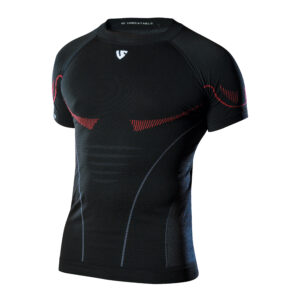 Under Shield®  – a company with many years' experience in the technical and functional clothing sector – once again chooses the innovation of Dryarn® to create the garments in its Spring-Summer 2020 collection.
A combination of Carbon Energized Fiber (C. E. F.)  – based on active carbon which acts on human thermodynamics – and  Dryarn® – the lightest microfibre in the world that manages the flow of vapour in perspiration to avoid unbalancing the body's thermoregulation system – goes to create a lightweight, insulating, breathable and extremely comfortable fabric. Ideal in the production of perfect underwear to support athletes while competing and in training, protecting them against all weather conditions.
Hero No Sleeve Mesh
The Ultra Light Under Shield® sleeveless technical top is a perfect combination of Carbon Energized Fiber and Dryarn®. It features a special perforated texture, keeping the skin always dry. The mesh, made with C.E.F. technology, creates a simultaneously durable and lightweight layer over the epidermis that prevents friction with the clothing above and enables the air to circulate freely, giving a pleasant sensation of freshness during exercise. Thanks to its Seamless technology the fabric has no stitching and perfectly follows the movements of the body without restricting or compressing it, giving a sensation of greater comfort.
Hero Short Sleeve
This lightweight technical short-sleeved top by Under Shield® combines the properties of Carbon Energized Fiber with those of Dryarn®, which help the body thermoregulate during intense workouts by wicking fluids to the outside, ensuring optimal breathability. This process reduces sensations of heat and fatigue, maintaining a constant body temperature and giving a pleasant feeling of dryness on the skin. The areas of the torso most prone to perspiration like the armpits, chest and back are covered by an Ultra Light Open Work texture, and at the sides and on the sleeves a special texture moulds to the body and adheres better to the skin. The special Seamless structure of the fabric prevents compression on the muscles and follows the movements of the body.